Archives by date
You are browsing the site archives by date.
Luke is speaking at the British Association for Psychopharmacology annual conference in London this week on research lead by Eve Limbrick-Oldfield looking at the effects of naltrexone on brain responses in men with gambling disorder, recruited from the London National Problem Gambling Clinic. 'Neuroimaging of the opiate system in gambling disorder'
New paper by Juliette Tobias-Webb in Journal of Gambling Studies looks at alcohol consumption after slot machine gambling: 30 mins of gambling (compared to a TV watching control group) showed increased ad libitum alcohol intake. Curiously, the effect did not transfer to a beer 'taste test' procedure in a second experiment in the paper. This […]
Radio interview with Luke Clark on CFAX 1070 (Victoria) about the links between problem gambling and online gambling, and resources for gamblers seeking help.
Eve Limbrick-Oldfield is giving a keynote at the Massachusetts Council on Compulsive Gambling annual conference in Boston this week (Tuesday 20 April) on 'The Gambling Brain' including our latest data on brain imaging of the reward system in the siblings of people with Gambling Disorder.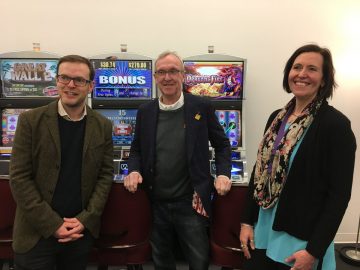 We were honoured to welcome MP Gordie Hogg to CGR this week to discuss our CIHR project grant awarded in January. The new project, led by Prof Catharine Winstanley and in collaboration with Mariya Cherkasova, Jon Stoessl, Vesna Sossi and Doris Doudet at the Djavid Mowafaghian Centre for Brain Health, will look at the effects […]
Most of the Centre have been at the New Horizons in Responsible Gambling conference in Vancouver this past week. Spencer was presenting new data from his study looking at eye tracking as a measure of immersion in slot machine gambling, in a session also featuring Dr Stephane Bouchard (University of Quebec), who is the leading […]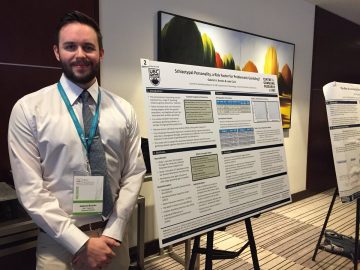 A lot of breaking data from CGR trainees at this year's poster session… Gabe Brooks presenting his work on 'Schizotypal personality: a risk factor for problematic gambling?' Mario Ferrari was showing data on 'Slot machine gambling and testosterone: evidence for a 'Winner-Loser' effect?' […]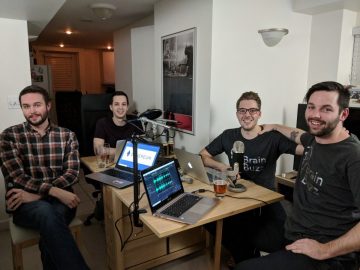 Listen to our very own Mario Ferrari and Gabe Brooks, PhD students at the Centre, talking about gambling research and how they became interested in psychology and graduate research, in a new UBC Psychology podcast called Brain Buzz, available here and itunes store. We were flattered to have the Centre featured in the first research episode.